I've always wanted to try my hand at creating surface pattern designs. What is surface pattern design, you might ask? It's a skill in creating designs that are primarily used for fashion and home decor textiles, paper products, and much more. It is a decoration for many surfaces that are all around us. Having a background in sewing and fashion and with my skills as a graphic designer, I thought I would give it a try.
In between my client work and while the world is in isolation due to the COVID-19 virus I have the opportunity to learn about surface pattern design via Skillshare with a class by Bonnie Christine.
If you have looked at my portfolio you may have noticed that I love flowers. I paint them, I photographed them and I draw them. This practice is coming in very handy for surface pattern design.
Below are my sketches of some random flowers that I have photographed and a few of those photos, as well.
Using Adobe Illustrator and my Wacom tablet I created vector illustrations from my sketches, gave them some color, and then grouped them together in a pattern. I found my color combination from a book in my library called 'The Designer's Guide to Color Combinations' by Leslie Cabarga. This combo came from the Art Deco section. I am very fond of Art Deco so that was a bonus find.
To see how this would look as a home deco pillow I mocked one up.
Then I played with another color combo and when enlarged this one looks pretty cool as a summer dress.
One more, a monochromatic version also looks nice as a home dec pillow that I mocked up too. As you can see there is no end to the options you can create.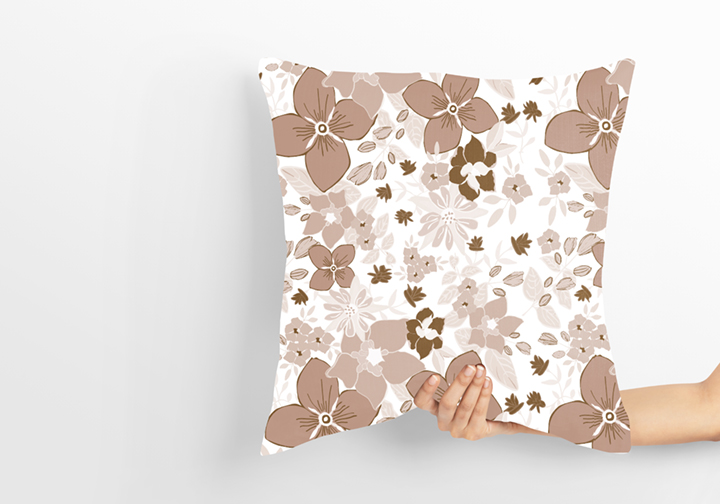 I have a lot to learn in perfecting this skill but I have to say I'm very excited about it. It was really fun and the possibilities are endless and I love that!