Watercolor painting and traveling can be challenging. What should you take with you and what should paint when you get to where you are going.
Often finding something that I can get into painting is the hardest part for me. Flowers are a favorite subject because of the many unique colors and shapes. Of course, flowers don't last very long to paint from real life. I can draw the composition out and get started then after a day or two paint from a photograph.
This painting is called 'Mexican Cup' because I painted it while traveling to and staying at Akumal México. This lovely cup and dish was in the condo that we rented. The bougainvillea bush that grew within the landscape, created a perfect color arrangement to paint.
Akumal is a beautiful small town in the Yucatan Peninsula of México between Play del Carmen and Tulum. The snorkeling is fantastic because there are so many turtles and colorful fish in the clear water. Akumal means 'land of the turtles' in the Mayan language.
I painted this about 10 years ago and is one of my first paintings. I can't find the photograph that I used but in the photo below you can see my set up and small space from which I painted. I've learned that you don't need very much room to paint and I think the key is to keep your subject matter simple so you can complete it in a reasonable amount of time. My style is realism so it seems to take a bit longer to finish than other styles. I use Arches 140 lb., block cold press paper so I don't have to worry about the paper buckling when wet. I probably take too many colors of paint but that is what I'm comfortable with, which I think is key to success.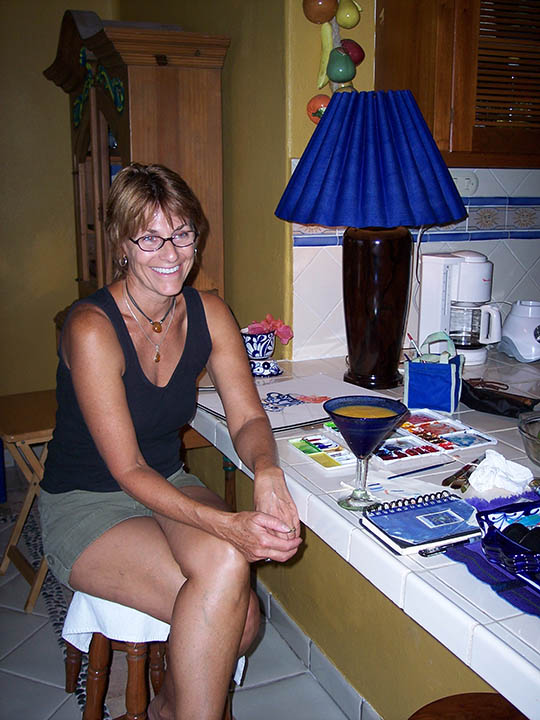 This painting makes a lovely card to send as a 'thinking of you' or 'birthday' greeting.  As my shop expands I will have copies available to hang on your wall.