Part two in a series of our trip on the California Star Light from Sacramento to Vancouver. Click Here for part one.
Our Visit to Seattle and the Space Needle.
The train doesn't continue into Vancouver on the same day, unless you take the bus. One has to spend the night in Seattle and then catch the train the next morning into Vancouver, which is what we planned to do. We received a text from our oldest son, Eric, a corporate pilot, letting us know that he was going to be in Seattle over night and would love to meet up with us.
The train arrived on time at 8:15 pm, Eric picked us up took us to the hotel for a quick check in and off we went to the Space Needle, which none of us had experienced before.
The view from the 605 feet high Space Needle platform/walkway was breath taking. It was dust when we got to the top, turning into beautiful sunset creating a city of sparkling colors below.
Looking Up from the Ground.
Once back on the ground looking up at the Space Needle the contrast of the golden light against the midnight blue sky was incredible! By this time of night most of the other attractions like the Chihuly Garden and Glass, and the Museum of Pop Culture were closed. The entire Seattle Center is beautiful and I could picture myself spending more time here at a future date.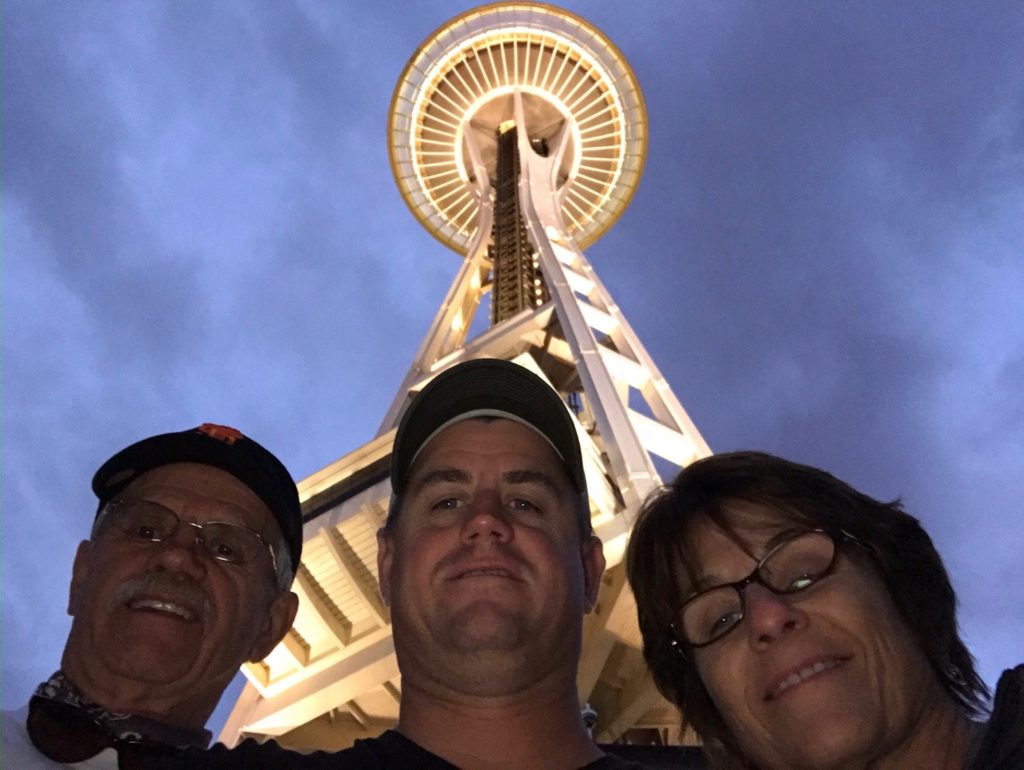 Kings Street Station
Early the next morning we took an Uber back to the train station as we make our way further north into Vancouver, Canada. One thing I have noticed is that the inside of train stations are ornately decorated. I really appreciated the beauty of those surroundings, it made waiting for departure much more pleasant. Apparently the station has had many different appearances over the years since it was built in 1904. In the beginning it was to model after the Campanile di San Marco in Venice, Italy. The final restore was completed in 2013.
We met a couple from East India while we were waiting. They were traveling the U.S. and Canada for a month. We chatted for quite a while learning about each other's travel experiences. They were also headed to Vancouver.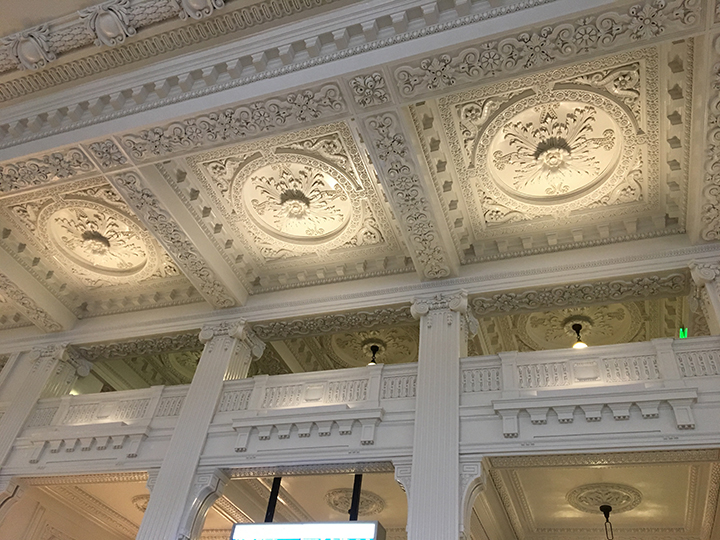 Back on the train.
Once aboard the train we settled into our coach seats to enjoy the scenery. As we meander up the north coast toward Vancouver, the view out the window proved to look like the typical foggy north coast that it is know for.
The below photo shows our colorful arrival in Vancouver. It's a big city with high rises everywhere. We are hoping that our Air B&B rental is acceptable and that we can find our way around, there are no Uber drivers in Canada.
Lots to explore and talk about in the next blog – Click here for part three