Crete, Greece 2018
Our Greek adventure of 2018 began by flying there from Rome to Athens, then to Crete. We landed at the Heraklion airport, which was the closest airport (there are three on the island) to our rented villa. Crete is the largest of the Greek islands, having a car is a must. It took us about an hour to drive to our Villa from the airport in our rental van. There are 8 of us, our two sons; one with his pregnant wife and the other with his three daughters between ages 9 & 15.
I fall in love with Greece from the moment we got on the airplane. It was apparent from the beginning that the Greek people are very friendly and hospitable. The airline (Agenen) provided us with great food and wine at no cost. Upon our arrival to our Villa, the owner and his translator, Nikos and Manos, had an entire spread of a Greek salad (cucumbers, tomatoes, feta and olives) with raki (a native alcoholic beverage) that they served to us as they told us about the Villa, the towns, the customs, things to do, and answering our questions. We felt very welcomed!
The Villa and the Rose
The Villa was beautiful, located about 20-minuites from the nearest large city of Rehimnon. A three-story home; the main floor had living, kitchen, dining room, two bedrooms and two bathrooms. The second floor was a mirror of the first which was perfect when traveling with multiple families. The lower floor was the laundry and another bedroom that we didn't use. There was a large pool and barbeque area, it was beautifully landscaped and surrounded by an olive orchard. We could see the ocean in the distance and every once in a while, you could hear the sounds of the bell wearing sheep as they were being herded by their shepherd.
When we arrived, it was super windy and chilly, as there was a weather front coming in and hovering over the island. We had a few rainy days which was not what we hoped for, but we made the best of it. Each time it rained it brought out the snails each with their own unique shell décor. The white roses shined with droplets of rain giving them an extra bit of beauty. This was my inspiration for the rose painting. My challenges were painting a white flower, the depth of the layers, and the rain droplets.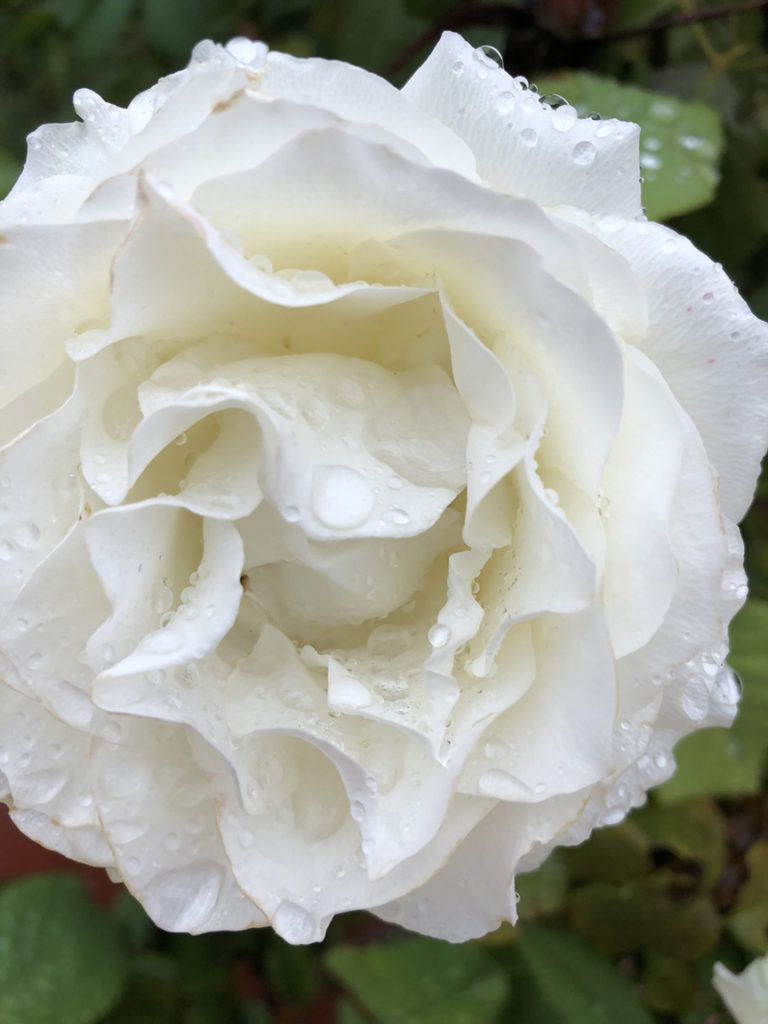 Several times during our stay we walked along the bay of Rethimnon from Kallithea to Fortezza viewing the distant beauty and the shops along the way. Once in the town proper the cobble stone narrow streets took us in and around the many shops and restaurants which entertained us for hours; in and out of shops, stopping in for a snack, glass of wine or hot chocolate.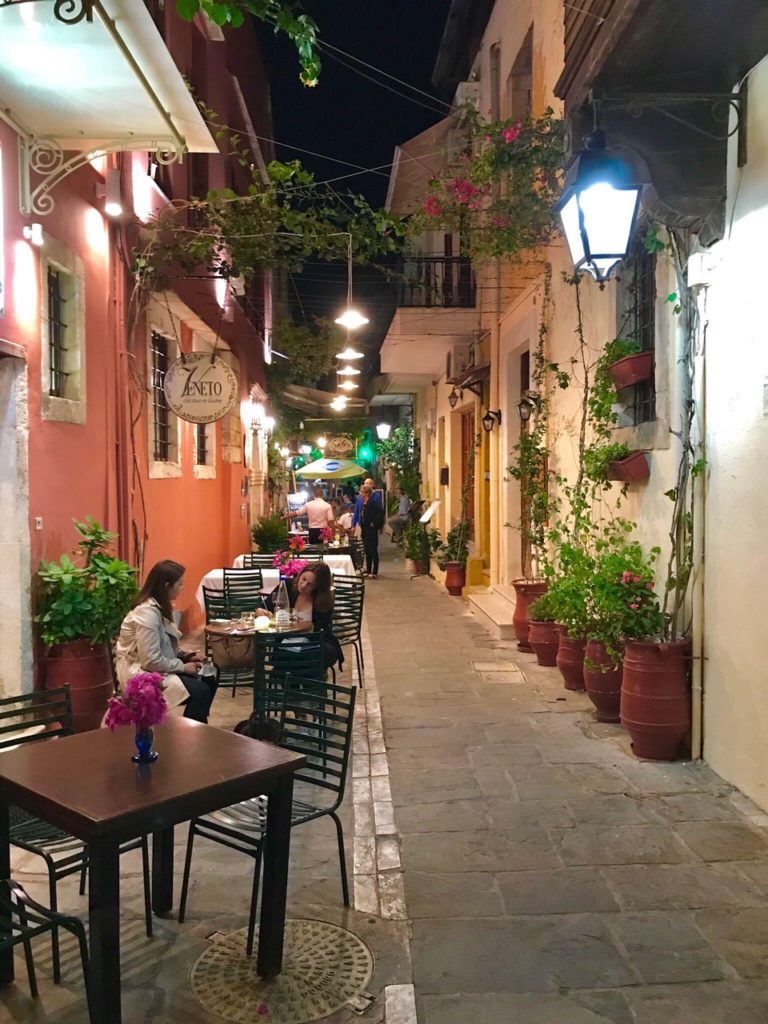 We experienced the indoor market on one of the rainy days. An hour drive to the town of Chania. The market was typical with lots of food to buy ready to eat, food to take home to cook, clothing, treats, olive oil products, everything you can think of. Who doesn't love shopping? So fun.
The Beaches
The four beaches that we visited were; Bali Beach, Preveli Beach, Stavros Beach and Elafonisi Beach and of course the beach at Rethymnon Bay. Each with it's own unique qualities. There were several other things we wanted to do but with the rainy weather conditions it prevented us from doing them.
Crete is located with the Lybin Sea on the south side and the Cretan Sea on the North side. So you can literally swim in two different seas within one day. And we did!
Bali Beach, a charming small beach with a restaurant and some of hiking giving you a birds-eye view. The water was cool enough that swimming was not pleasant long term. But the laid-back atmosphere and the bay view was very enjoyable.
Preveli Beach is located on the Lybin Seaside of the island, about a 1 ½ hour drive through many different eco-systems, through mountain tunnels, farmlands and small villages to get there. It's common to see a road-side stand selling honey, olive oil and raki their three main products along-side the road. Preveli Beach is a popular beach with quite a climb down to it from the parking area and of course back up, but well worth it. The water was a little warmer here and the waves were bigger, so a little body surfing was in order. A well know interesting element of this beach is the palm tree forest that follows the gorge behind the beach. There is a trail through it but because it had stormed it was too full of water for us to go very far. A small snack house provided us with snacks and drinks before the hike back up to the van.
Stavros Beach is where the 1964 movie Zorba the Greek was filmed. Surrounded by a small town and facing a mountain that many people were hiking up, it was a shallow bay but surprisingly not warm either. I think this was our least favorite beach of them all but there is a very nice restaurant called Almyriki that we enjoy a wonderful meal from on their outdoor dinning area.
Elafonisi Beach or Pink Sand Beach was a 2 hour drive on the southwest corner of the island. The advice was if you plan to go get there very early to beat the crowds which are bused in for the day. It's a very popular beach because it's pink beaches are so sunning. We left at 7:30 am and sure enough we were the first ones there. In an hour or two sure enough the buses started to arrive. The sand was amazing with a pink hue and covered with millions of tiny shells. Again, the water was shallow but chilly and so swimming was not happening but walking along the miles of beach was enjoyable.
On our last day, we spent some time in the small village of Pigi that was closest to our Villa. We loved walking around the quaint and quiet small dirt streets, a very different feeling from the larger city of Rethimnon. There were not as many shops, mostly homes and a couple of restaurants. We did go into a olive woodworking shop and purchase a few beauties. Then it was time for afternoon drinks and snacks at Taverna Faragi and then dinner at Taverna Poliou House both excellent with lots of charm and friendly folks. It was the end of their tourist season (October) so they had a limited menu but it was satisfying with Greek salad, French fries, and Mousska, Kebabs and Tzatziki and of course Raki. It is tradition to serve customers a lite dessert and Raki on the house after a mea. It's considered rude to leave before this offering.
We enjoyed our stay in Crete and we are all in agreement that we would go back. I do wish we would have had warmer weather so we could have enjoyed the ocean and pool more, both too cold to swim in comfortably but not much you can do about the weather. We loved it there regardless of that, thank you Crete we will be back!