If you've missed Grand Bahama Island 2017 ~ Week One, you may want to start there.
The benefits of taking vacations have been well documented; the stress relief, boosting your energy, relationship building, creative problem solving and increasing levels of happiness, just to name a few. What I've noticed is the slowing down of time. Is it being more in the moment, not being surrounded by those chores, or is it just getting out of the daily routine? What ever it is I wonder, is it possible to take this laid back, being in the moment, no routine feeling home with me?
Anyway, on to week three…
Last week we encountered a couple of days of storms, more interesting discoveries, a full moon, and early low tide.
The weather has been beautiful this entire trip. Sunny days (an average of 85 degrees), always a nice breeze blowing with puffy white to gray clouds that sometimes produce an hour or so of rain depending on where you are on the island. The couple of rainy and very windy days that we did have reached over the entire island. So we jumped in the car headed for the town of West End and a place called Old Bahama Bay Resort and Yacht Harbor.
West End is the oldest town on the island as well as the capital. It's the closest point to Florida at 55 miles. That's probably why it's visited by many boaters coming over for an afternoon or weekend.
A little history behind the resort is; in 1949 a holiday camp was built by an Englishman that couldn't make it successful. Then a New York investor bought it in 1999 and created the resort.
The Old Bahama Bay Resort and Yacht Harbor is beautiful with massive, well manicure grounds and colorful buildings. To stay there the cost starts at $200.00 to $700.00 a night depending on the view you have. It literally over looks the end of the island and is completely self contained which is a good thing because it a long way from anything.
On our way up to the West End, we were struck by another interesting fact about the island that we were not aware of.
It's been surprising at the plentiful amount of conch shells lying on some of the beaches. It's so exciting when I find one in good shape to bring them back to the apartment so I can stuff it into my suitcase to travel home with me. What a find, right?
Well, not so fast. Turns out that they are everywhere, and I mean piles of them. As we entered the small town of West End driving along the coastline we discovered several mountains of conch shells.
This prompted me to learn more about the conch and why were there so many mounds of shells lying around. According to the website Community Conch, the Conch is native to the coasts of the Caribbean, the Florida Keys, the Bahamas, and Bermuda. It has historically been a primary food staple for the people of these areas and an important economic resource for fisherman. Mystery solved.
Next question is what is the sustainability if the conch takes about 5 years to reach maturity. Like most fish we enjoy eating they are vulnerable to being over fished.
We got back into Freeport at the dinner hour so we stopped at the Upstairs on the Bay restaurant. With a great view of the Waterway canal and the Laycaian Market Place, we enjoyed some fettuccine alfredo and stuffed bell pepper.
The awareness that when there is a full moon and fishing an out going tide is not the best time for bone fishing became a reality because Dale hasn't seen very many bone fish last week, but did catch this beauty.
Dale took this beautiful photo while fishing the Fortune Bay flats.
Being a beach bum doesn't allow that much time for painting, but who's complaining, not me! I've have been working on a painting that I started at home, off and on. Still in the early stages, but here's a peek.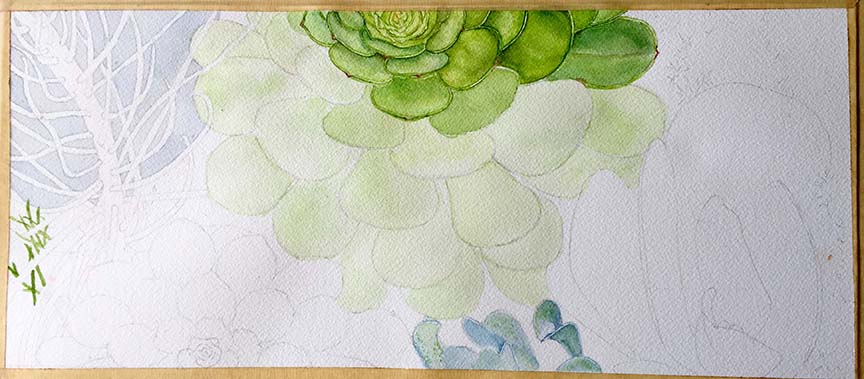 Onward to our last week in paradise.
Click here for Week Four.